About Novoscalp Clinic
At Novoscalp Clinic we believe that scalp micropigmentation (scalp tattoo, hair tattoo) is the best solution in the world right now for male hair loss. It is also referred to as male pattern baldness, androgenetic alopecia, diffuse thinning – the bottom line is that if you're losing your hair you are here because you want to do something about it.
Our clinic room in the leafy Sydney suburb of Hunters Hill uses the latest Scalp Aesthetics technology and aseptic procedures in a safe and hygienic environment. Our unique SCALPA needles are all sterile and single use.
We use (SAT) organic plant-based pigments developed especially for Scalp Micropigmentation to achieve natural looking definition and tone. Our inks are approved by the FDA and have been proven as safe for application into the Scalp dermis.
Our Mission
Our aim is to achieve complete customer satisfaction. We know the reputation of Novoscalp and Scalp Aesthetics Australia depends on us giving clients the best possible outcome.
You can phone Novoscalp Clinic to make an appointment for a consultation to discuss the suitability of the Scalp Aesthetics micropigmentation treatment for you and to answer any questions you may have. Alternately you can send the query form below.
Our Practitioners
Practitioners at the Novoscalp Clinic have been trained by Scalp Aesthetics Australia Appointed Trainer of the Scalp Aesthetics Technique (SAT), Janice Trainer, a professional in her own right with over 20 years of experience in cosmetic tattooing.
We are practising as an exclusive member of Scalp Aesthetics Australia.
Our practitioners have also completed specialised training in Scalp Micropigmentation and Paramedical Tattooing for Hair Replication and Scar Camouflage under the tuition of DeAnna O'Brien at the highly regarded Vancouver Paramedical Clinic in Canada.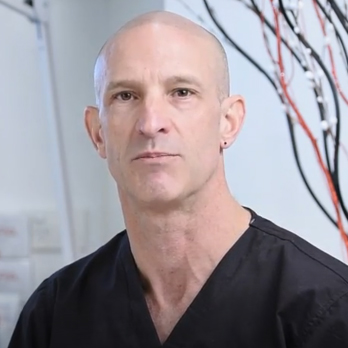 Master Practitioner
Brett Smith
We're an Exclusive Member of Scalp Aesthetics Australia
Until now those options have been limited to transplant surgeries, hair systems, prescription drugs, topical treatments and sprinkle or spray-on fibres which all have their various downsides. Unlike these hair loss solutions, an SMP treatment is stigma-free, immediate, convenient and looks natural.
Clients suffering from hair loss who choose to transform their lives through a Scalp Micropigmentation Treatment with Novoscalp Clinic will have access to the most competent and understanding practitioners, a clinically sterile procedure environment and latest equipment at the cutting edge of the industry along with a realised expectation of the best possible end result.
Novoscalp is proud to announce our exclusive partnership with Scalp Aesthetics Australia and the practise of the Scalp Aesthetics Technique (SAT) and use of SCALPA pigments and needles for our follicle replication procedures.
Book Your Free Consultation
Restore your confidence today and book in your free consultation with us.
Member of Scalp Aesthetics Australia

We are a proud Member of Scalp Aesthetics Australia and practice the Scalp Aesthetics Technique (SAT), regarded by most to be the most advanced form of scalp micropigmentation in existence.